This is a ORIGINAL SCARCE ISSUE NOT A REPRINT
This is a SCARCE ORGINAL Not A Reprint
MUNRO'S PUBLISHING CO
1886 OLD CAP LIBRARY #186
"OLD BROADBRIM DOUBLE GAME"
Revealed By The Lighting's Flash by Mark Merrick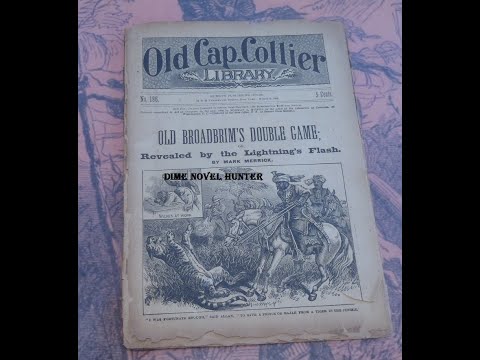 CLICK ON PHOTO TO VIEW VIDEO
This character has always been a favorite in the Cap. Collier Library. The deductions displayed by this hero, while he never loses sight of his main object—to shield the innocent and bring the guilty to justice—makes this one of the most sensational series ever written. This is from a collection of Black and White issues that we are listing over the next few weeks. The book has wear, chipping and some stress spine split but interior pages are in good condition. A rare find to be sure in this condition or any condition for that matter.
We will be listing many more Old Cap Library in the near future.
We have many other dime novels we have or will be listing if you have any questions just e-mail me through EBAY. This is one of 200 "Beadle's Dime Library, 65 Nick Carter Library, 57 Old/Young Sleuth Library, & many "The Shadow Magazines" as well as several thousand dime novels we will be placing on EBAY over the next several years. Any questions or special requests please email us. We always try to list any items that are requested as quickly if we can. We also sell for many collectors that have interesting and varied amounts of items, many not seen at auction for years. Ask us if you are looking for that unusual or rare item and we may know where it is being offered.
This book is one of a large collection we are placing on our eBay store of rarely available items and books. The book is one of the many rarely seen items that we will be offering over the next few months from a collectors estate sale. Once these are gone how long before you will see them come up again. Once a collector buys them they go right back into a vault somewhere.
We always take into consideration a customers history of buying from us when addressing "BEST OFFER" option. We will respond to you within the allotted time but if it has just been listed we will give it the full time period to allow others to make similar offers or purchase. We list many, many items that may be "One of a kind" or simply "One of a kind on the market". These items usually are placed in collections which are not seen again on the market until once again sold by collectors. If you collect, you realize that is a once in a lifetime occurrence for collectors.....
BOX # 113