This is a ORIGINAL SCARCE ISSUE NOT A REPRINT
BEADLES NEW YORK DIME LIBRARY #144 THRU #156
13 complete issues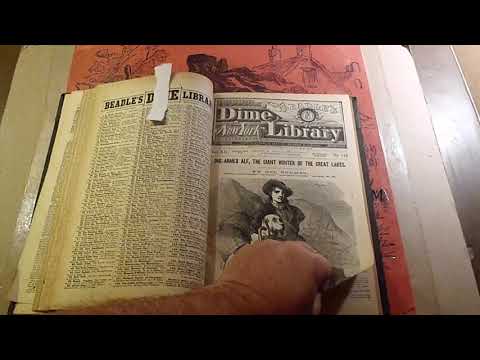 BEADLE'S NEW YORK DIME LIBRARY #144 thru #156 - YouTube
Video will open in a new window
Using the eBay App? Paste link into a browser window:
[isdntekvideo]
These issues came from Charles Bragin's personal collection, the bound volume holds many many scarce issues. Scarce, rare or just call it hard to come by they just aren't out there in this condition paper is in fine condition . Every issue is complete with both front and back covers. This book is in very good condition the front cover has wear and the binding is cracked but doesn't effect interior at all.. Paper quality is very good and complete. This issue is a large format 12.5 inches by 8.25 inches.
(See video for complete details)
144.Victor Hugo. The Hunchback of Notre-Dame. July 27, 1881. Fifty-five pages of tragedy in Paris from 1482 to 1488.
145.William R. Eyster. Pistol Pards; or, Soft Hand,the Silent Sport from Cinnabar. August 3, 1881. Blood-and-thunder in Spanish California.
146.George Lemuel. The Doctor Detective; or, The Mystery of the Golden Coffin. A Strange Story of Hidden, Inner Life of New York's Great City. August 10, 1881.
147.Prentiss Ingraham. Gold Spur, the Gentleman from Texas; or, The Child of the Regiment. The Romance of a Frontier Garrison. August 17, 1881. Kansas-Colorado border on the Republican River. Twin brother mixup; Buckskin Mose and others.
148.Oll Coomes. One-Armed Alf, the Giant Hunter of the Great Lakes; or, The Maid of Michigan. A Romance of the War of 1812. August 25 [sic], 1881.
149.Gustav Aimard. The Border Rifles. A Tale of the Texan War. August 31, 1881.
Sequence of stories: Dime Library, no. 149, Dime Library, no. 151, Dime Library, no. 153 which are included in this volume.Indians, hunters, etc. in Texas and on the Upper Missouri River.
150.Thomas Hoyer Monstery. El Rubio Bravo, King of the Swordsmen; or, The Terrible Brothers of Tabasco. A Story of Tropical Love and Adventure. September 7, 1881.Honduras when Guartiola was President, then Mexico. A companion story to Dime Library, no. 143, continuing the adventures of Olaf Svenson.
151.Gustav Aimard. The Freebooters. A Story of the Texan War. September 14, 1881
152.Marmaduke Dey. Captain Ironnerve, the Counterfeiter Chief; or, The Gypsy Queen's Legacy. September 21, 1881.Melodramatic story of counterfeiters in Virginia.
153.Gustav Aimard. The White Scalper. A Story of the Texan War. September 28, 1881.
154.Joseph E. Badger. Joaquin, the Saddle King. A Romance of Murieta's First Fight. October 5, 1881.On page 4 there is a half-page biography of Murieta.A story of Joaquin Murieta, in the early days of California.
155.Prentiss Ingraham. The Corsair Queen; or, The Gipsies of the Sea. A romance of Strange Mystery and Thrilling Adventure. October 12, 1881.Gipsies in Spain in 1812, then in Maryland. A privateer on the Chesapeake.
156.Dangerfield Burr. Velvet Face, the Border Bravo; or, Muriel, the Danite's Bride. A Romance of Border Mystery. October 19, 1881.
This one of a large collection we are placing on our Ebay store of rarely available items and books. The book is one of the many rarely seen items that we will be offering over the next few months from a collectors estate sale. Once these are gone how long before you will see them come up again. Once a collector buys them they go right back into a vault somewhere.
We always take into consideration a customers history of buying from us when addressing "BEST OFFER" option. We will respond to you within the allotted time but if it has just been listed we will give it the full time period to allow others to make similar offers or purchase. We list many, many items that may be "One of a kind" or simply "One of a kind on the market". These items usually are placed in collections which are not seen again on the market until once again sold by collectors. If you collect, you realize that is a once in a lifetime occurrence for collectors.....
BOUND VOLUME SHELVES