This is an ORGINIAL not a DUPLICATE
GRAHAM TRAGEDY MOLLY LEE EXAMINATION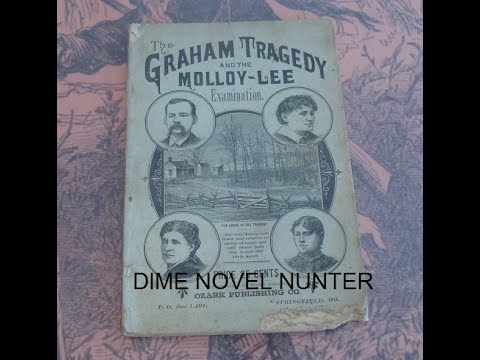 THE GRAHAM TRAGEDY - YouTube
Video will open in a new window
Using the eBay App? Paste link into a browser window:
[isdntekvideo]
"The Graham Tragedy and the Molloy-Lee Examination" no author listed, published by Ozark Publishing Co., copyrighted 1886 by Central Supply Co.. Book measures five and three quarters inches by eight and a half inches. This is a soft covered paper back book 108 pages long with three pages of synopsis and pictures of the detective in the case and Cora Lee one of the accused. The book is in fair condition with the lower corner of the book being chewed away by past unknown critter assailants, age toning to cover and pages, soiling to back and front covers, small tears and spine paper missing along spine area, chipping along cover edges, few wrinkles and creases, bent corners, otherwise still readable and viable. The interior of the book is in good condition besides chew marks, pages are intact, the type is clear, and the interior pages are fairly clean for a copy of this age. Many wood block type illustrations of people involved, the area where the crime happened on front cover, full page front is of Mrs. Emma Molloy an accessory to the crime. This was big news in Missouri at the time, the crime took place in 1885 and this book was printed in 1886, the people wanted to know the details. A good addition to any dime novel, pulp type, true crime story collections. Own the original printing for your collection. (See video for complete details). Exceptional issue that is nearly 135 years old.
This book is one of a large collection we are placing on our eBay store of rarely available items and books. The book is one of the many rarely seen items that we will be offering over the next few months from a collectors estate sales. Once these are gone how long before you will see them come up again. Once a collector buys them they go right back into a vault somewhere.
We always take into consideration a customers history of buying from us when addressing "BEST OFFER" option. We will respond to you within the allotted time but if it has just been listed we will give it the full time period to allow others to make similar offers or purchase. We list many, many items that may be "One of a kind" or simply "One of a kind on the market". These items usually are placed in collections which are not seen again on the market until once again sold by collectors. If you collect, you realize that is a once in a lifetime occurrence for collectors.....
All items will be packaged in a professional way to protect the product from most shipping problems. It is always advisable to protect your investment with insurance.
BOX #111