This is a ORIGINAL SCARCE ISSUE NOT A REPRINT
MUNRO'S GIRLS AND BOYS OF AMERICA #1 09/27/1873
Published by George Munro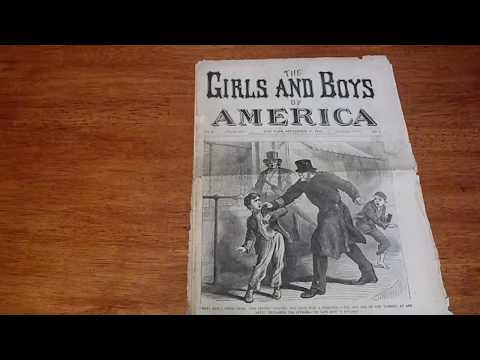 MUNRO'S GIRLS AND BOYS OF AMERICA #1 - YouTube
Video will open in a new window
Using the eBay App? Paste link into a browser window:
[isdntekvideo]
This issue is in very good condition for a paper that is 147 years old . This paper has marks, tears and foxing on edges. The paper is off white and needs to be treated as if it was over 147 years old because it is. This maybe a one of a kind issue if you see another grab it because I have never seen one.
I will be listing other rare Street and Smith, Munro and Frank Tousey story papers later. This paper is rare I have only seen it once and I bought it. Do a search and no images are found on the web and I know of no other copies.
We have many other dime novels we have or will be listing if you have any questions just e-mail at imaginationradio@hotmail.com http://stores.imaginationradio.com/ This is one of several thousand dime novels we will be placing on on our site over next several years. Any questions or special requests please email us. We always try to list any items that are requested as quickly if we can. We also sell for many collectors that have interesting and varied amounts of items, many not seen at auction for years. Ask us if you are looking for that unusual or rare item and we may know where it is being offered.
We always take into consideration a customers history of buying from us when addressing "BEST OFFER" option. We will respond to you within the allotted time but if it has just been listed we will give it the full time period to allow others to make similar offers or purchase. We list many, many items that may be "One of a kind" or simply "One of a kind on the market". These items usually are placed in collections which are not seen again on the market until once again sold by collectors. If you collect, you realize that is a once in a lifetime occurrence for collectors.....
IMPORTANT PAPERS BOX # 1