This is a ORIGINAL SCARCE ISSUE NOT A REPRINT
ARMY AND NAVY #08
THE MONARCH OF JUVENILE PUBLICATIONS
VARIED AUTHORS SUCH AS:
Upton Sinclair, Horatio Algers, William Murray Graydon and Edward Ellis as well as others.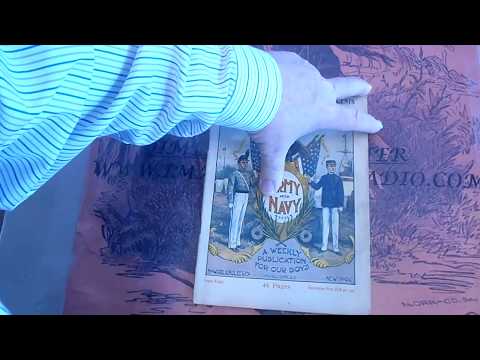 ARMY AND NAVY WEEKLY - YouTube
Video will open in a new window
Using the eBay App? Paste link into a browser window:
[isdntekvideo]
This issue is in good shape with some foxing, small tears and pieces missing along spine. We have many other Army & Navy Weeklys and Half Holiday, we have listed about 40 others if you have any questions just e-mail me through EBAY. This is one of 200 "Beadle's Dime Library, 65 Nick Carter Library, 57 Old/Young Sleuth Library, & many "The Shadow Magazines" as well as several thousand dime novels we will be placing on EBAY store over the next several years. Any questions or special requests please email us. We always try to list any items that are requested as quickly if we can. We also sell for many collectors that have interesting and varied amounts of items, many not seen at auction for years. Ask us if you are looking for that unusual or rare item and we may know where it is being offered.
This book is one of a large collection we are placing on our Ebay store of rarely available items and books. The book is one of the many rarely seen items that we will be offering over the next few months from a collectors estate sale. Once these are gone how long before you will see them come up again. Once a collector buys them they go right back into a vault somewhere.
We always take into consideration a customers history of buying from us when addressing "BEST OFFER" option. We will respond to you within the allotted time but if it has just been listed we will give it the full time period to allow others to make similar offers or purchase. We list many, many items that may be "One of a kind" or simply "One of a kind on the market". These items usually are placed in collections which are not seen again on the market until once again sold by collectors. If you collect, you realize that is a once in a lifetime occurrence for collectors.....
BOX # 103