This is a ORIGINAL SCARCE ISSUE NOT A REPRINT
THE BROOKSIDE LIBRARY #316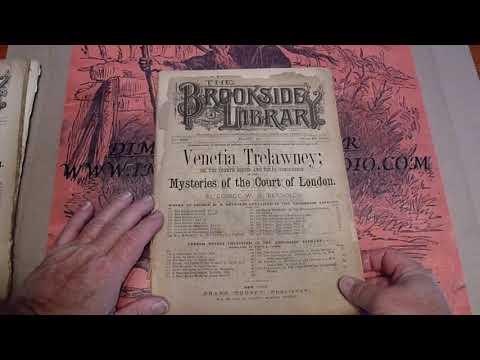 BROOKSIDE LIBRARY 5 ISSUES - YouTube
Video will open in a new window
Using the eBay App? Paste link into a browser window:
[isdntekvideo]
This book is in good condition except that the front cover is detached and chipped and is listed as the high end of scarce in collecting guides. The pages are tan to off white colored and supple slight edge wear and age staining as expected with a book that is 120 years old. (See scan for further details.) If you have a particular issues or newspapers you need for your collection drop us a message through Ebay or at our website imaginationradio com.
Printed and Published by Frank Tousey. This series was initially a high-seller, but it soon came under fire for 'improper' stories. In 1884 Anthony Comstock charged Tousey for printing G. W. M. Reynolds' "The Mysteries of the Court of London" in The Brookside Library, a story deemed a vice. Frank Tousey's uncle, Sinclair Tousey, provided him with bail and the nephew's legal adviser, W. H. Townley, claimed that Comstock's accusation was a personal vendetta against Tousey for caricatures made of the former in The Judge under Tousey's ownership. Following review in the Tombs, Tousey was required to destroy the plates in order to avoid further prosecution. The Brookside Library was published weekly by Frank Tousey based in New York, USA. It ran from 1882 to 1884 for a total of 410 issues.
I am not a grader so I make sure the scans are close and as detailed as I can make them. We have many other we have or will be listing if you have any questions just e-mail me through EBAY or at our web site imaginationradio com . This is one of 800 "Beadle's Dime Library, Nick Carter Library, Old Sleuth Library, &"The Shadow Magazines" as well as several thousand dime novels we will be placing on EBAY and in our site store over this year. Any questions or special requests please email us. We always try to list any items that are requested as quickly if we can.
This book is one of a large collection we are placing on our Ebay store of rarely available items and books. The book is one of the many rarely seen items that we will be offering over the next few months from a collectors estate sale. Once these are gone how long before you will see them come up again. Once a collector buys them they go right back into a vault somewhere.
We always take into consideration a customers history of buying from us when addressing "BEST OFFER" option. We will respond to you within the allotted time but if it has just been listed we will give it the full time period to allow others to make similar offers or purchase. We list many, many items that may be "One of a kind" or simply "One of a kind on the market". These items usually are placed in collections which are not seen again on the market until once again sold by collectors. If you collect, you realize that is a once in a lifetime occurrence for collectors.....
BOX # 105